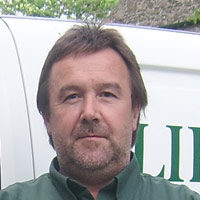 Ian Corlett (Director) and Engineer
Ian has been a lift engineer since 1984. After serving an engineering apprenticeship as a motor vehicle technician with a local garage, Ian moved on into the lift industry and has since gained a vast knowledge of the lift industry. Ian has taken and attained various LEIA (Lift and Escalator Industries Association) qualifications in Hydraulic and Electric traction lifts along with IOSH, EOR202 and a St John Ambulance Certificate in Emergency aid in the workplace. Ian still takes a very hands on approach to the engineering side of the business and can often be seen out in the field assisting the other engineers and advising customers.
Ian has been married to Rachel since 1986. They have two children Robyn and Liam. In his spare time Ian likes motorcycling, golf and fishing.